The 2001-2013 Yz250f is a workhorse of a dirt bike with minimal maintenance needed for the average rider. It's not uncommon to see 500 hours of use on this 250cc dual over cam titanium 5 valve Yamerhamer compared to others in its class that's almost 5 times the engine longevity for a 250 motocross steed. We purchase this 03 yz250f for a $1000 from a friend with some nice mods yet it was an old pro circuit race engine with some cheap aftermarket parts installed gathered over the years. So for it to be a reliable toss in the back of a camper and ride kinda bike we changed a lot with updating the parts we saw that would make the largest effect versus cost!
Fox raceway Pala California
Built for our friend Brook that wanted a dirt bike to learn on and ride this Yzedd anywhere life took her so it had to be light & reliable.

As you can see in the video this was a laid-back build to reflect what it's like when ya have a nomadic lifestyle and a camper on your rig that's what this was for… The weekend warrior that wants a dirt bike to ride 6 or 9 times a year with minimal maintenance required. So we started to sell off the parts that the bike came with and replaced the engine with a low hour 2009 OEM engine as these bikes are very cheap compared to other bikes in the 250 4-stroke class. also added a larger & 2lb lighter Keihin carb. Along with a set of SSS forks and Matching A kit style shock with titanium spring (the same shock design pros and Factory Edition bikes still use today!) Now, these suspension parts are by no means the cheap parts yet even when u buy a brand new bike your suspension is the most important update to be done! So yes for a more affordable option a suspension tune would be ideal.

Best Mods when re-building a used dirt bike – Budget

Suspension Tunning
New Carb
Correct Tires
Using OEM Parts Where it counts!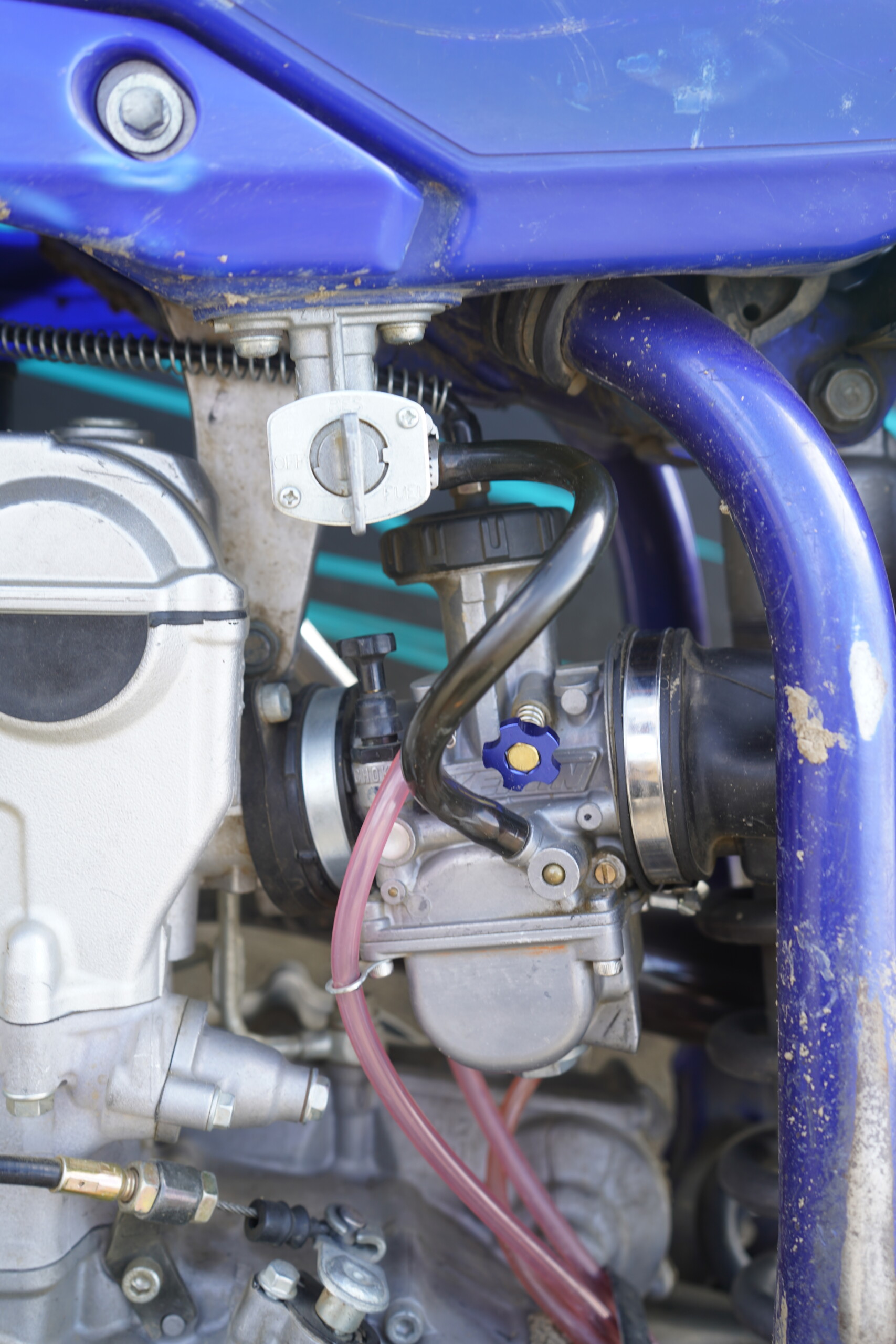 Suspension tuning & performance –

The biggest reason a dirt bike is unique starts with the $5000+ suspension that comes stock on 250 motocross bikes. Setting suspension upright for your riding level and weight can make any bike (more importantly the rider) perform at a higher level.  We added more current larger forks & shock as this bike was built for motocross in Southern California.
New Carb Vs Rebuilt Carbs-
With enough time and effort almost any part of a bike can be rebuilt yet most riders have issues getting one dialed so we opted for a new Keihin carb so if we ever needed any parts let's say 5 years from now there would be dealers nationwide that would have the part to this OEM part.
Tire options-
One of the best mods any rider can do is buy fresh set tires to make a bike feel more precise this is a category worth looking into more. For the Mx track, we love the Dunlops MX33 yet there are a lot of great options currently.
OEM Parts-
As easy as it is to get pulled into a cheap part the china copies are just not there yet like car manufacturers and with your life being tested readily on a motorcycle it's just not the best gamble. Yes, there is a great aftermarket upgrade out there but those products are about the same price as the OEM part and are made for racing so not always will they last as long.
Plastics and graphics aren't that cool when a bike leaves ya stranded. As fun as it is to customize Dirt Bikes to your taste, most people won't pay more when it's time to sell their first used dirt bike. The Majority of riders know good parts and what aftermarket parts they can trust! Most bike builds you see on youtube have a $600 plastic and graphics kit then cheaping out to install China-made dirt bike parts on high-end flying machines. this is not only sketch but takes away from the bike's worth as well! So here's a list of parts we recommend sticking to OEM or these Upgrade Brands instead of plastics that will get beat up in a week of riding abuse.

Best Parts & Brands For Dirt bikes 
Excel Wheels
OEM Engine Parts
OEM or SKF Fork Seals
Brembo or Nissin Brakes & parts
OEM Petcocks
Kehin Carbs & throttle bodies
Rental Bars & levers
OEM O-ring or X Ring Chains

Comment below to keep up to date on this ongoing build and yz125 article!