Buying a street-legal dirt bike equals the freedom to go places some may never. Yet most of today's dirt bikes are a trade-off, either a full-blown race bike or just cheap street-legal transportation. The 2020 Fe501 was one of the first dual-sports we've seen that could easily bridge the gap with a possible wet weight of sub 230lbs and 60+ WHP; this swiss army knife of a bike can be built; to do it all! Now, these best in the dual-sport industry numbers are of course, after some bolt-on upgrades (which kits can be purchased for personal builds.) Another option is a fully built-to-order dirt bike, yes, that right. One could buy the best dirt bike customized and modified to each rider's need then shipped worldwide to your door! That may be the best option for souls who value time more than money.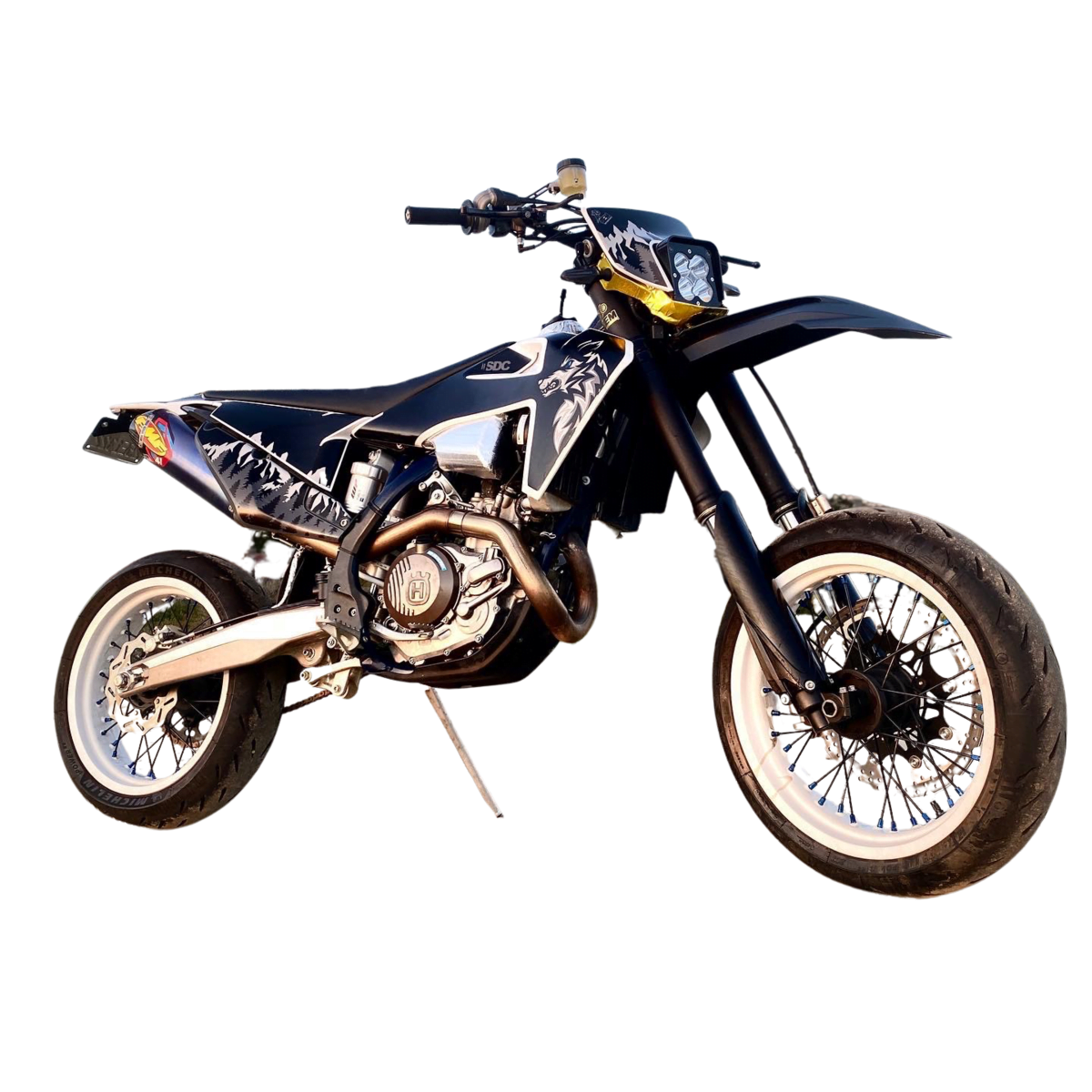 Top Fe501 Mods Installed
46mm throttle body
Billet Hubs & A60 Rims
10,000 Lumen headlight
Lightest Tail tidy brake light
Larger Brembo Brakes

17mm radial master
320mm Brembo 5.5mm thick rotor
27mm twin-piston Nissin (lightest caliper for all uses)!
12mm rear master for more brake pedal feedback

OEM Engine parts to accomplish power & retain reliability

Titanium Del west valves
Larger duration cam
12.8.1 compression piston
11,000 rev limit ECU Tune
Lightened Top end components

Works Brembo Clutch master & slave.
More info and items are below!
Using the best wheels made for dirt bikes – 
Supermoto to dirt wheel swaps is the heart of any dual-sport motorcycle. The point of a one for all dirt bike is to have a proper equation of fun vs. stress. When one builds the lightest and highest power-to-weight ratio machine, a new world of opportunities awaits. This is why we start with the best wheelset money can buy with spokes that never need maintenance intervals (bending wheels & crashes aside ;). The best part about a street-legal dirt bike is the 150 lbs weight savings from a street bike. (Allowing for track days with a license plate to ride home with).
The lightest dual-sport makes whips and turn-ups easy for any rider.
Dirt Bike Suspension Tuning By-  Graeme Brough

Like a rally car that can jump hundreds of feet with less suspension than a stock pickup truck, Dirt Bike Suspension tuning is an essential upgrade anyone can do when progressing in the sport of dirt bikes! With some of the best riders in the world using "GB," we are blessed to have him support our company and our suspension upgrade products. The stock forks on a FE501 are not to any pro's liking, and we have opted out for a KYB SSS fork set to match up nicely with the stock rear shock with internal upgrades to balance the bike in all situations from 125mph supermoto wheelies to dune jumps. After stiffening the forks and shock twice, we've found this bike stable in the woops at 90+ mph and still handle as a modern-day dirt bike assassin should
Dialing in the Best Dirt Bike Brakes for each build-

With the opportunity of buying over 5000 bikes, we've seen & tested great and really bad brake upgrades/aftermarket options. Nissin brakes make great calipers, yet we've seen that the master cylinders are more precise from Brembo. So why not run both? Well, manufacturers and factory-supported Pros can only run what they ran with from stock. Yet many riders have used different combinations the last decade, resulting in more options to choose from. The newer bikes have become more and more touchy so we've taken it to the next level and put the tightest tolerance kits we can piece together with great results. Yet the rear brakes we went to a progressive smaller piston master for better control during high-speed/intense use.
Brightest Dirt Bike Lights – Headlight & Tail Tidy Light
Bright Lights save lives, well it's true and it looks cool doing such. We've worked with the best light brands like Audi's LED makers & Baja designs headlights to make the best kits ready to install on all dirt bikes! The newest light like this bike runs is almost 10,000 lumens. Currently, the brightest there is for a one-light setup. Many light companies in china are saying 90,000-lumen flashlights, which could be possible but are far closer to our 3,000-lumen kit so be careful as this is not the case from every aftermarket company we've bought from for fun as well as some lights we've strapped on pit bike fenders to enjoy a Saturday night.
Best Dirt Bike Brake Light Kit-
When a dual-sport comes from the dealer with street-legal lighting kits, they must abide by many world laws. The lights on most manufacturers' dual sports are designs from 20 years ago and last about a ride on actual off-road use. Being actually seen by other motorists is a real concern when dealing with 5,000+ pound moving weapons (cars) in ur direction so we've made a kit that holds up to real dirt bike use and also is super bright. It uses the same LEDs Audi does!
Adding more Fe501 build specs soon-

for now, here's a video of it in the works at Glen Helen